Main content starts here, tab to start navigating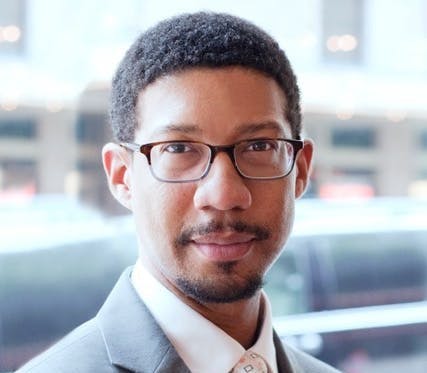 Gregory Samuels
General Manager
As a kid growing up in Chicago's Hyde Park neighborhood, Gregory Samuels always thought he would become a teacher one day. While he's not officially working in a classroom now that doesn't mean his role as General Manager at The Dearborn doesn't offer Gregory plenty of opportunities to educate his staff. "As it turns out, I get to teach a little every day while, at the same time, I get to make new friends of strangers," he says.
After college at New York University with a concentration in English Education, Gregory moved back home where a job as a server and floor manager at a small café and pizza bar near the University of Chicago sparked his interest in the hospitality industry.
In 1997, Gregory headed to the Gold Coast's Big Bowl, working the carryout counter before moving into serving, hosting and bartending. His introduction to management skills took place in 2002 at Grand Lux Café, where he was an expeditor, front desk coordinator and trainer. Gregory served as a liaison between management and staff and helped coordinate operations between the kitchen and front-of-the-house teams.
Eventually Gregory returned to Big Bowl where he became an assistant manager. His responsibilities included re-engineering food and beverage ordering and inventory systems for the entire Big Bowl division; front-of-the-house staff hiring and training; and developing regular clientele through the creation of first-time guest appreciation initiatives.
Gregory's first general manager position was in 2010 at Davis Street Fishmarket, where his skills helped the restaurant increase profits. While there, Gregory created staff training materials for ongoing education and engineered systems to ensure food safety. It was while GM at City Tavern that Gregory began taking on a leadership role on the beverage side.
In 2014, Gregory became general manager at River North's Kinmont. In his three years there, in addition to his lengthy list of responsibilities—ranging from preparing financial statements and curating a dynamic wine list to staff management—Gregory created The Kinmont Council, a group of top regulars who gathered monthly to grow a sense of community for the restaurant.
While at Kinmont Gregory connected with fellow employee, chef Aaron Cuschieri, which led to Gregory's current position as general manager at The Dearborn. At the American tavern-inspired restaurant, Executive Chef Cuschieri and Gregory, who came onboard in February 2017, are able to further develop the strong communication skills they initiated while working at Kinmont. "A big part of my role at The Dearborn is developing and maximizing the talent around me so we can best represent Aaron's vision," says Gregory. "Every day we meet and I try to set a tone of excitement and positivity about what we are doing. But once we open the curtain on lunch, brunch or dinner, that's the time that my staff directs me. I lead by serving."